St Columba's Church Newsletter 1 November 2020
Published: Thursday, 29 October 2020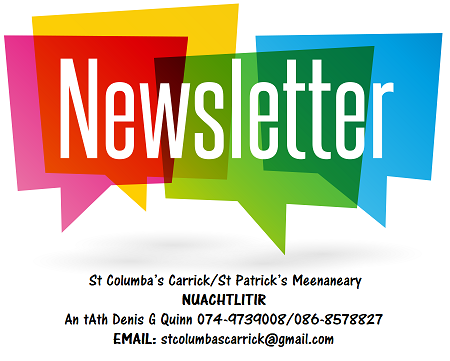 All Saints 31 October/1 November 2020
Masses this week
Due to Diocesan/Government Regulations there will be no public Masses this week. The Church will be open for private prayer.
Fr Pat Davis will continue to offer Mass Intentions during the week
**Novena Masses for the Dead will be celebrated by Fr Pat Davis from Monday 2nd November to Tuesday 10th November. Anyone wishing to have their deceased family members remembered during these Masses may leave an envelope with names included into the Church/Parochial House and they will be placed on the Altar during the Masses.
Gar Dé
There is a lovely phrase in Irish called "Gar Dé" which translates as "an act of Kindness for God". These acts are done by people without any reason or motive other than to do a good turn. "Gar Dé's" are most part quiet unnoticed actions done by people without been recognised. The following story of one simple farmer whose "Gar Dé benefited the whole of humanity.
Fleming who was a poor farmer. One day, while trying to make a living for his family, he heard a cry for help coming from a nearby bog. He dropped his tools and ran to the bog. There, mired to his waist in black muck, was a terrified boy, screaming and struggling to free himself. Farmer Fleming saved the lad from what could have been a slow and terrifying death. The next day, a fancy carriage pulled up at the farmer's sparse surroundings. An elegantly dressed nobleman stepped out and introduced himself as the father of the boy farmer Fleming had saved.
"I want to repay you," said the nobleman. "You saved my son's life." "No I cant accept payment for what I did," the farmer replied waving off the offer. At that moment the farmer's own son came to the door of the family hovel. "It that your son?" the nobleman asked. "Yes," the farmer replied proudly. "I'll make you a deal. Let me provide him with the level of education my own son will enjoy. If the lad is anything like his father, he'll no doubt grow to be a man we both will be proud of." And that he did. Farmer Fleming's son attended the very best schools and in time, graduated from St Mary's Hospital Medical School in London, and went on to become known throughout the world as the noted Sir Alexander Fleming, the discoverer of Penicillin. Years afterward, the same noblenman's son who was saved from the bog was stricken with pneumonia. What saved his life this time? Penicillin. The name of the nobleman? Lord Randolph Churchill. His son's name? Sir Winston Churchill.
Sometimes the little things we do, without realising it can have a greater effect than we imagine. As Christians our faith demands of us that we do those little things,….visit a neighbour, call to the sick, listen to someone's troubles, call a friend etc.
These are the "Gar Dé's" that can pave our way to heaven and change the lives of people.
Anniversaries
Christopher and Maeve O Byrne, Mass Sat 7th November
Support Line: If you are an older person and would like someone to talk to, particularly since Covid-19, consider phoning SeniorLine.  We are Ireland's national confidential service for older people. We are open every day of the year from 10am-10pm.  We are older people too, trained to listen and support.  We would love to hear from you.  Freefone 1800 80 45 91
An Tobar Domhain  continues to be livestreamed on the Raphoe Diocese Facebook Page each evening at 9.15pm.  You are cordially invited to join Bishop Alan for this time of prayer and reflection.  It is also livestreamed on the Cathedral Webcam at www.churchservices.tv/letterkenny
A Prayer for Spiritual Communion My Jesus, I believe that you are present in this Most Holy Sacrament of the altar. I love you above all things and I desire to receive you into my soul. Since I cannot receive you now in Holy Communion, come spiritually into my heart. I embrace you as if you were already there and unite myself wholly to you. Never let me be parted from you. Amen.
PRAYER TO OUR LADY OF KNOCK FOR LIBERATION FROM THE EPIDEMIC
The prayer is adapted from the prayer Pope Francis prayed during the extraordinary
moment of prayer before Saint Peter's Basilica on 27 March 2020
O Mary, Our Lady of Knock,
You shine continuously on our journey
as a sign of salvation and hope.
We entrust ourselves to you, Health of the Sick,
who, at the cross, united with Jesus' pain,
remained strong in faith.
You, Queen of Ireland,
know what we need,
and we trust that you will provide for those needs so that,
as at Cana of Galilee,
joy and celebration may return
after this moment of trial.
Help us, Mother of Divine Love,
to conform ourselves to the will of the Father
and to do what Jesus tells us.
May He, who took our sufferings upon Himself
and burdened Himself with our sorrows,
bring us, through the Cross,
to the joy of Resurrection. Amen 
 Download Newsletter HERE for printing 
Hits: 3727