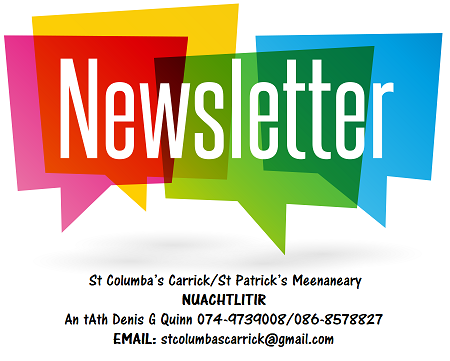 27th Sunday Ordinary Time 3/4 October 2020
Masses this week
Due to Diocesan/Government Regulations there will be no public Masses this week. The Church will be open for private prayer.
Fr Pat Davis will continue to offer Mass Intentions during the week
**Mass Saturday 10th October will be celebrated by Fr Gerard  Cunningham P.P Glenties via web cam for Carrick/Meenaneary parishioners at 6.30p.m. It can be viewed on https://www.churchservices.tv/glenties.
**Mass Sunday 11th October will be celebrated by Fr Gerard Cunningham P.P, Glenties via web cam for Carrick/Meenaneary parishioners at 9.30a.m. It can be viewed on https://www.churchservices.tv/glenties
Offertory Collection:  €205
Story
Three priests were having a very intellectual debate on prayer. They discussed the merits of different poses, or postures during prayer. One strongly advocated praying on one's knees, because that signified humility, reverence, and the proper attitude of the creature before the Creator. A second argued strongly for the lotus position, legs crossed, back upright, hands opened out on lap. This suggested availability, and a willingness to listen to the Lord. The third was equally convinced that the correct position in prayer was to pray as Jesus did, when he cast eyes up to heaven.
There was an electrician working nearby, and he could not help over hearing this profound debate. He was hesitant, but he decided to speak up, and make a contribution. "Far be it for me to enter into a debate about prayer with 'men of the cloth'. However, I just want to tell you what my own experience has been. I never thought much about right or wrong postures at prayer. Then one day, I found myself hanging by one leg from an electric pole, in the middle of a thunder-storm after the ladder had slipped. I cried out to God in that position, and, do you know something, he heard me!"
Thought
We get Jesus' attention, and we impress him through our powerlessness, and our brokenness….
Our daily lives may be very busy and if while standing in a queue at the supermarket or driving from A to B or while washing up the dishes after a meal we decide to say a little prayer, God will not mind about the place or stance we are in but that we have taken a little moment to talk to him.
Cúimhneacháin Báis
Died Recently         
Brendan Haughey, Teelin, Months Mind Mass Friday 9th
Anniversaries
Mary T Doherty, Lower Carrick, Mass Sat 3rd October,
Eddie O Gara, Meenawiughran, Carrick, Mass Thurs 8th Oct
Kathleen Mc Nern, Teelin, Mass Sat 10th October,
Jack & Michael Gallagher, Teelin,
Drive Through Bingo in Meenaneary on Saturday 3rd October at 5p.m
Muintir Na Tíre, Kilcar /Glencolmcille Community Alert Seniors Alert Scheme .
Participants over 65 interested in applying for alarm can contact any Community member for an application form .
Johnny Cannon Glencolmcille 074 9730959 Mobile 087 3833832
Suzanne Byrne Carrick 074 9739344 Mobile 086 3963150 
Peter Molloy Kilcar 074 9738956 Mobile 086 6064535.
COVID-19 Support Line for Older People
ALONE manage a national support line and additional supports for older people who have concerns or are facing difficulties relating to the outbreak of COVID-19 (Coronavirus). Professional staff are available to answer queries and give advice and reassurance where necessary. The support line is open seven days a week, 8am - 8pm, by calling 0818 222 024.
An Tobar Domhain will be livestreamed on the Raphoe Diocese Facebook Page beginning on Thursday the 1st of October at 9.15pm.  You are cordially invited to join Bishop Alan for this time of prayer and reflection.  It is also livestreamed on the Cathedral Webcam atwww.churchservices.tv/letterkenny
A Prayer for Spiritual Communion My Jesus, I believe that you are present in this Most Holy Sacrament of the altar. I love you above all things and I desire to receive you into my soul. Since I cannot receive you now in Holy Communion, come spiritually into my heart. I embrace you as if you were already there and unite myself wholly to you. Never let me be parted from you. Amen.
Download Newsletter HERE for printing