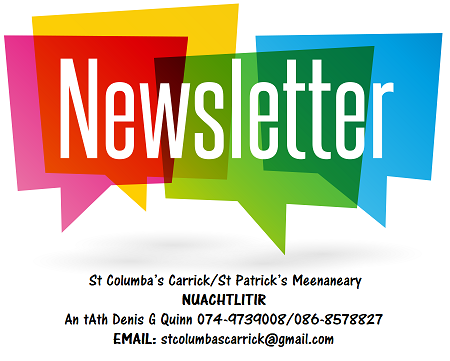 24th Sunday Ordinary Time 12/13 September 2020
Masses this week
Carrick                                                            Mín an Aoire
Mon 7p.m                              
Tue 9.30 a.m                                       An Dohmnach 9.30 a.m
Thurs 7p.m
Fri 10 a.m
Sat 6.30p.m
Sun 11a.m
Offetory Collection: €560
---
Thought
How important is Jesus in my life? Is he like a star on my horizon, pointing the way to live out his message in daily life. If he is, I must keep connected to the source of all light.
God is like an electrical outlet. Behind every outlet is the mysterious power of electricity. It can light up a room, heat a home and much more. Nothing happens unless we get plugged in, connected to the source of power. And we need the power of God to enlighten out darkness, mend our brokenness, fill our emptiness, enhance our courage and create in us hearts of love.
The connection between all of this is prayer. The psalmist assures us:
The Lord is near to all who call upon him
There will be times when our star seems covered with dark clouds. Then we can get comfort from that great woman Catherine de Hueck Doherty who wrote:
Three quarters of your life you will feel as if you cannot pray. Of course you cannot pray as you think you want to pray!  Who do you think you are, an angel who can say to God for all eternity: glory, glory, glory?
But God sits there and doesnt mind at all. God prays for you, as you pray about the living, the suffering, the doubting and all manner of things.
God is there, and once God is there, all things are there and you become a prayer. 
---
Cúimhneacháin Báis
Died Recently
Brendan Haughey, Teelin,
Anniversaries
Brid Byrne, Clogher, Mass 6.30p.m
Eunan Moore, Mass Thursday 17th 7p.m
Nora Cassidy, Teelin, Mass Sat 19th Sept 6.30p.m
Josie Byrne, Crove, Mass Sun 20th 9.30a.m
Fograí
Please continue to sign for the Mass you are attending. It is important that all attending observe the guidelines in the Church. Face Masks are advisable. Do not attend Mass if you haven't signed the forms in the Porch in advance. I appreciate the continued help of people and we need to continue to be very careful and cautious. Those attending Anniversary Masses are asked to notify extended Family outside of the parish of our restrictions and rules regarding numbers in the Church
Parish Office: The Parish Office will be open for calls and the booking of Masses every Thursday from 10a.m – 1p.m.
Meenaneary Drive-In Bingo: Drive-In Bingo will be held in Meenaneary on Saturday 19th September @ 5pm.  Fáilte Roimh Gach Duine!  All proceeds in aid of the Meenaneary Roof Restoration Fund.
Irish Dance Class: Marie Cannon resumes her Irish Dance Class in Halla Mhuire, Glencolmcille on Monday 14th Sept. Fáilte roimh paistí ag tosnu. Guidelines in place.
Pobail Pairtiocht lar Dheisceart Dhun na nGall will hold its AGM on Monday 28th Sept at 8 pm. 
Southwest Donegal Communities Partnership Ltd:
Relax Kids: Wednesday 16th Sept from 4- 5 pm for 6 weeks. If interested contact Bernadine on 0877474232 Walking Group: Monday mornings at 10 am and Wednesday evenings at 7 pm. Yoga with Eileen: Thursday 17th Sept from 10 - 11:15 am for 8 weeks. If interested contact Eileen Mc Gonigle on 0868443838 Free Bike Week Events: 
Carrick Cycle Challenge: Saturday 19th Sept at 8:30 am. Suitable for adult cyclists looking for a 30 km distance challenge. Must be pre-booked as limited places. Beginners Bike Skills: Tues 22nd Sept from 7 - 8 pm for beginner adults. Must be pre-booked as limited places National Walk Day: Sunday 27th Sept at 12 noon. Please register at the Centre on 074 9741863. Please bring your own Hi-Vis Vest. 
CLUB IOMARTHA THEILINN, WEEKLY DRAW / TARRAINGT SEACHTAINIÚIL. ENTRIES €2 OR 3 ENTRIES FOR €5. SIMPLY FILL IN YOUR DETAILS ON THE ENVELOPE AND YOU COULD BE A WINNER! PRIZE EACH WEEK IS 50% OF WEEKLY SALES. ONE WINNER EVERY WEEK..Can be bought in the following buisnesses; Byrnes Foodstores (Glen, Carrick), Evelyns Central Bar, Dohertys XL, The Rusty Mackerel, Sliabh Liag Vistors Centre, Hegartys Sliabh liag Lodge, Centra Kilcar and Aislan Cill Cartha. Please support your local rowing club. Ag tarraingt le chéile. 
Download Newsletter HERE for printing