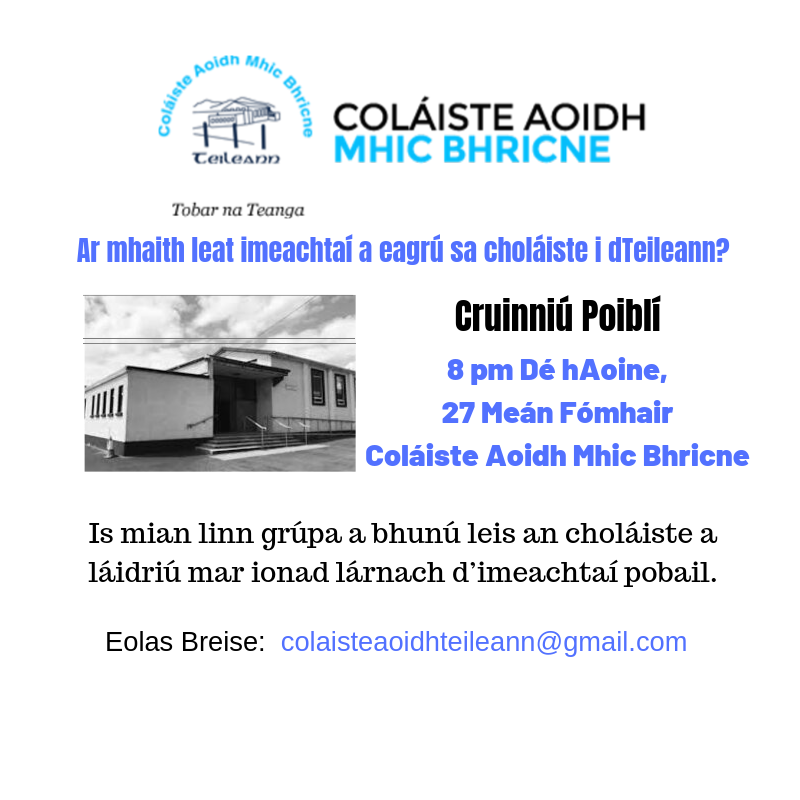 There will be a public meeting to recruit new families to open their doors to Irish language learners during summer months to ensure the Teelin Gaeltacht College's continuation. Coláiste Aoidh Mhic Bhricne has been welcoming Irish language learners for over 60 years with the support of the local community and families. Over 200 teenagers attended the 2019 courses, resulting in the college's best since the early 2000's.

"We are seeking new families to help us continue the college and strengthen our community of local families and mná tí," says Dr. Pádraig Ó Tiarnáigh, Chairperson of Coláiste Aoidh Mhic Bhricne.
"We could not keep our doors open without the families that support the college at present and we need to bring new families on board this winter to ensure that we can deliver courses in summer 2020 and beyond," he said.
"The support we've received from Béal an Phobail, the south Donegal Irish language planning initiative backed by Údarás na Gaeltachta will allow us to run a strong campaign."

A €2,000 start-up grant is available from Roinn na Gaeltachta to ensure homes are 'student- friendly' and meet relevant safety requirements. Coláiste Aoidh Mhic Bhricne is offering an additional €1,000 start-up grant to help cover additional costs that may arise. The Teelin College is offering Irish language support for interested families that may be lacking confidence with their spoken Irish.

Expressions of Interest are being sought from homeowners in Teelin and the surrounding areas. An information session will take place in the Irish College Teelin, 7pm, September 27.

Members from the college management committee along with a representative from the Department of the Gaeltacht and a current member of the Bean an Tí team will give a short presentation on the night and will answer any queries or questions.
Further information is available on the Coláiste Aoidh Mhic Bhricne Facebook Page or by sending an email to This email address is being protected from spambots. You need JavaScript enabled to view it..

Coláiste Aoidh Mhic Bhricne is an Irish language summer college located in Teelin, South west Donegal, along the Wild Atlantic Way. The College was founded in 1955, and it celebrated 60 years established last summer. The college runs three summer courses each year for young people in the Donegal Gaeltacht