John Harkin Darts Finals Night
Published: Tuesday, 08 March 2022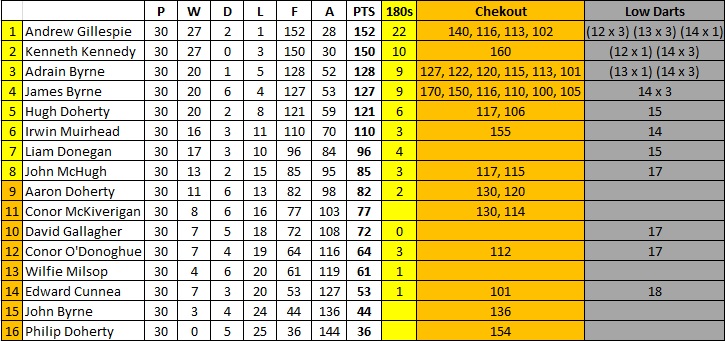 John Harkin Darts Singles League Finals Night
The John Harkin Singles League reaches its conclusion this weekend 835 after the first round of matches were played, we were at round 26 in March 2020 and then Covid struck, we got the remaining matches played in the last few weeks since the tournament recommenced in early February.
The play offs take place in Evelyn's on Wednesday 16th March with the Shield competition beginning at 8pm SHARP followed by the cup play offs, parings were made on final league positions (see above).
Andrew Gillespie topped the league with Kenneth Kennedy finishing  a close second, Andrew leads the 180s table with 22 from 30 games, and he also has the least darts leg with three 12 dart legs while the highest checkout is a maximum 170 from James Byrne. All welcome to attend.
Playoffs Friday 4th March in Evelyn's
Shield Quarter Finals @7pm
Best of 7
Aaron Doherty v Philip Doherty @ 7pm
Conor McKiverigan v John Byrne @7pm
David Gallagher v Edward Cunnea
Conor O'Donoghue v Wilfie Milsop
Semi Finals - Best of 7
Final – Best of 7
John Harkin Cup Quarter Finals @ 9:30pm
Best of 9
Andrew Gillespie v John McHugh @ 9:30pm
Kenneth Kennedy v Liam Donegan @9:30pm
Adrian Byrne v Irwin Muirhead
James Byrne v Hugh Doherty
Semi Finals – Best of 9
Final – Best of 11
Semi-final parings will be drawn on the night after the quarter finals finish.