Published: Saturday, 11 September 2021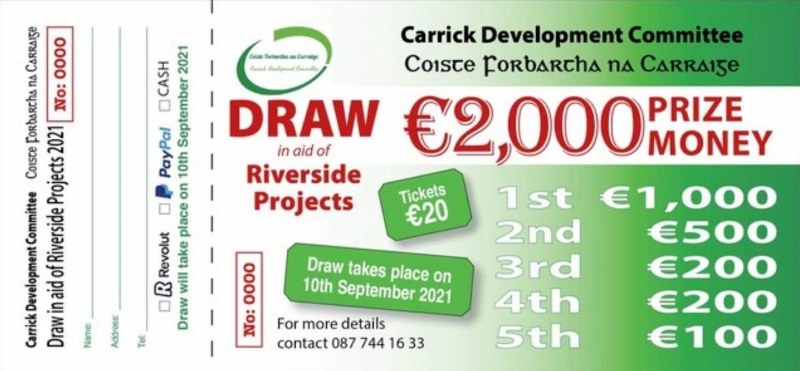 Draw now takes place on 24 September due to some tickets not being returned so you can still enter online or buy locally!! 
We are delighted to announce that the work and fabrication of the steel structure for the Footbridge has begun, with the hope that this will be completed towards the end of August.  
With the rejuvenation of the Riverwalk which has served the community so well during recent lockdowns, we are excited at getting this stage of our plans near completion.  
We are incredibly grateful for all the support we have received so far in all our fundraising efforts.  As part of the projects, we still have a substantial amount of €21,000 to raise as part of our local contribution towards the costs.  
We are now launching our Summer Draw and hope you will help us toward this goal.
Prizes:
1st Prize:  €1000
2nd Prize:  €500
3rd & 4th Prize: €200
5th Prize:  €100
Ticket prices €20.  
PayPal / Card Payment see bellow (if you don't have PayPal and don't want to setup an account click "Pay with a Bank or Credit Card" and on mobile devices click "Create an Account" where you will get the option of paying without having to set up a PayPal account). **please use Friends option for payment. Please Note email/mobile number so we can sent you copy of your ticket email
This email address is being protected from spambots. You need JavaScript enabled to view it.
 mobile 0877441633.
Revolut:  Contact 0877441633 for more info.  
Cash:  Contact any member of committee. 
Hits: 2243