St Columba's Church Newsletter 13 December 2020
Published: Sunday, 13 December 2020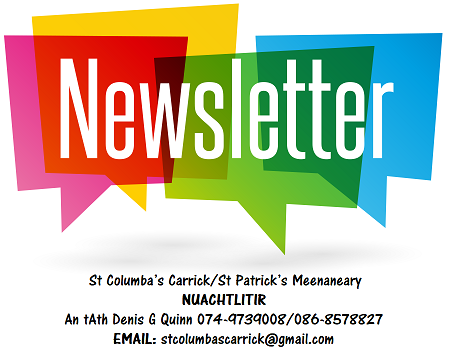 An Triú Domhnach Den Aidbhint 12th/13th Dec 2020
Masses this week
Carrick                                                             Mín an Aoire
Sat  6.30p.m
Sun  11a.m                                                    Sun 9.30a.m
Wed/Thurs 10a.m                                          Wed 7p.m
Fr 7p.m
Sat 1p.m
**Please note no Mass Mon/Tue
Confessions after each weekday Mass
Offetory Collections: Oct (4 Sundays) €1,110, Nov (5 Sundays) €1,255,
Last Week €1475. Buíochas
Reflection
"Life is what you make it", some people say. But due to circumstances beyond their control, children can grow into adults who are convinced that everyone is having a worthwhile life and doing great good, except themselves.
This can be due to lack of self-esteem, unhappiness in families etc. The result is that instead of seeing how much they have to offer, they question the usefulness of their lives.
God is love for every child born. For those who feel sad, lonely or depressed because they do not love themselves, Psalm 139:13-14 has some consoling words to lift their hearts:
For it was you who formed my inward parts; you knit me together in my mother's womb. I praise you, for I am fearfully and wonderfully made. Wonderful are your works; that I know very well.
John Powel adds the following touching words to reflect on:
There is an old Christian tradition that God sends each person into this world with a special message to deliver, with a special song to sing for others, with a special act of love to bestow.
No one else can speak my message or sing my song or offer my act of love. These have been entrusted only to me.
And always remember:
The Lord is close to the broken hearted and each one of us are Gods unique creation and we are as good and talented as everyone else but better than no one.   
Cúimhneacháin Báis
Died Recently
Kevin McGinley, Meenacharvey, Months Mind Mass Wed 16th 7p.m
Hugh Cunningham, Upper Carrick, Months Mind Sat 19th 1p.m
Mary Smith, Kilkenny, Co Kilkenny,
Anniversaries
Michael Oliver McIntyre, Main Street, Mass Sat 19th 6.30p.m
Hugh  Donnell, Stranakirka, Mass Sun 20th 9.30a.m
Nora Coughlan, Frosses/Carrick Lower
Donal O Gara, Carrick Lower/Letterkenny
Fograí
Comhghairdeas: To all the children who received their First Holy Communion this weekend. Buíochas do gach duine a bhí pairteach.
Sick and housebound: will be attended this Wednesday as arranged with Fr Denis G.
Míle Buíochas: I on behalf of the Community thank the Fas Workers and those who supported them with the painting of Meenaneary Church. I also thank the person who anonymously paid for the paint. Your support is very much appreciated.
Family Prayer: Family Prayer is important and certainly at this time when many people are lonely, cannot travel and the threat of the Virus is still very dangerous. As families pray for one another.
Old School: It has been brought to my attention that there is a litter problem in the area at the back of the Old School. I would ask people to respect these properties and note that this is not a place for meetings or gatherings. Local Gardai are aware of the situation.
Please continue to sign for the Mass you are attending. It is important that all attending observe the guidelines in the Church. Face Masks are compulsary. Do not attend Mass if you haven't signed the forms in the Porch in advance. Please use one line for each person attending on the sheets. I appreciate the continued help of people and we need to continue to be very careful and cautious. Those attending Anniversary Masses are asked to notify extended Family outside of the parish of our restrictions and rules regarding numbers in the Church.
Christmas Programme
Due to restrictions at this time Christmas Masses have to be rescheduled.
Carrick                                                 Mín an  Aoire
Christimas Eve                                   Christimas Eve
Mass 10a.m                                        Mass 12 Noon
Mass 5p.m                                          Mass 6p.m
Mass 8p.m
Christmas Day                                   Christmas Day
Mass 11a.m                                        Mass 9.30a.m
50 people can attend Carrick Church and 35 people can attend Min an Aoire Church. Forms are at back of Church for signing for each Mass. Only those who have signed may attend the Mass. Please use one line on the sheets for each person attending All Masses Christmas Eve/Day cover Christmas obligation. Please choose one Mass in order to allow for others to attend. Face Masks are to be worn and 2 Meter distance to be observed. Family/one Household members may use one seat. 
Download Newsletter HERE for printing 
Hits: 3218