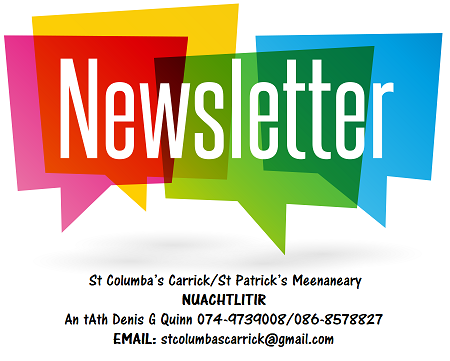 33rd Sunday Ordinary Time 14th/15th Nov 2020
Masses this week
Due to Diocesan/Government Regulations there will be no public Masses this week. The Church will be open for private prayer. Fr Pat Davis will continue to offer Mass Intentions during the week.
Transformation to New Life
"What a great afternoon this is," thought the young boy."Grandpa and me fishing all by ourselves." The two of them just talked and fished, and aimlessly drifted in a row-boat on a lake. The boy became restless – normal for a boy and he leaned over the side to look into the water. There, just beneath the surface, a bunch of water beetles were flitting around as if they were playing.
Suddenly one of the water beetles crawled up on an oar. When it got halfway up, it attached the talons of its legs to the wooden oar and died. The boy's curiosity was aroused and he interrupted his grandfather's nap to show him. They went back fishing.
About three hours later, the boy looked down at the dead beetle. What he saw caused him to jump, almost tipping the boat. The beetle had dried up, and its shell started to crack open. Both the astonished grandfather and the boy watched silently at what unfolded before their eyes.
Something began to emerge from the opening: first long tentacles, then a head, then moist wings until, finally a beautiful dragonfly fully emerged.
They both stared in awe. The dragonfly began to move its wings, slowly at first. Then it hovered gracefully over the water where the other water beetles were still flitting around. They didn't even recognise the dragonfly. They didn't realsie that it was the same beetle they had played with some three hours earlier.
The boy took his finger and nudged the dried out shell of the beetle. It was like an empty tomb.
Cuimhneacháin Báis
Died Recently
Hugh Cunningham, Carrick Upper
Mary Ann Doogan, Crove
Kevin McGinley, Meenacharvey
Anniversaries
Eileen & Phonsie Haughey, Teelin, Mass Sat 14th
John Gillespie and deceased family members, Glen Road, Mass Sat 21st
Prionnsias Kelly, Ballymore
Support Line: If you are an older person and would like someone to talk to, particularly since Covid-19, consider phoning SeniorLine.  We are Ireland's national confidential service for older people. We are open every day of the year from 10am-10pm.  We are older people too, trained to listen and support.  We would love to hear from you.  Freefone 1800 80 45 91
Gracious God, You surround us all our days, We walk and work in the light of your world and sleep and dream in the gentle dark you created. Now that our working and dreaming are done, Give us rest and a place to call home, within the great city of your love, through Jesus Christ our Lord.
A Prayer for Spiritual Communion My Jesus, I believe that you are present in this Most Holy Sacrament of the altar. I love you above all things and I desire to receive you into my soul. Since I cannot receive you now in Holy Communion, come spiritually into my heart. I embrace you as if you were already there and unite myself wholly to you. Never let me be parted from you. Amen
An Tobar Domhain continues to be livestreamed on the Raphoe Diocese Facebook Page each evening at 9.15pm.  You are cordially invited to join Bishop Alan for this time of prayer and reflection.  It is also livestreamed on the Cathedral Webcam at www.churchservices.tv/letterkenny
Download Newsletter HERE for printing