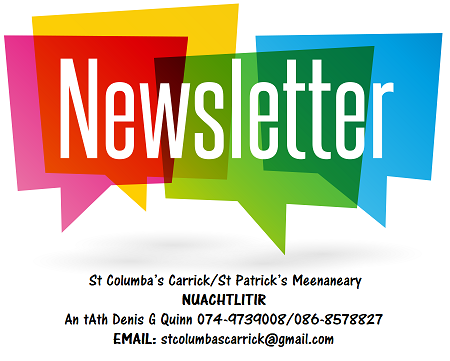 29th Sunday Ordinary Time 18/19 October 2020
Masses this week
Due to Diocesan/Government Regulations there will be no public Masses this week. The Church will be open for private prayer.
Fr Pat Davis will continue to offer Mass Intentions during the week
**Mass Saturday 17th October will be celebrated by Fr Gerard Cunningham P.P Glenties via web cam for Carrick/Meenaneary parishioners at 6.30p.m. It can be viewed on https://www.churchservices.tv/glenties.
**Mass Sunday 18th October will be celebrated by Fr Gerard Cunningham P.P Glenties via web cam for Carrick/Meenaneary parishioners at 9.30a.m. It can viewed on https://www.churchservices.tv/glenties.
Masses next week and next weekend with be celebrated by Fr Pat Davis, behind closed doors in the Church. 
A Wake up Call
A friend of mine got a 'Wake up call'. He had a heart attack. He knew his life was full of stress and his diet appalling. He had been to health farms several times, so he knew the right and wrong of his dietary needs. But he continued to spiral downwards until he was just barely able to dial 999.
Now back on track, he feels lucky to have got another chance. But how long will it last? He tells me the reason he got into that state in the first place was because of loneliness.
Loneliness is hard to combat. Perhaps we need to return to our roots – to build communities where people care about each other; where entertainment means inviting friends over for a meal, a chat, some story telling and good fun.
In this stress filled world we all need playtime. We need to rid ourselves of the burdens of the day through laughter, dance and all sorts of creative pursuits. Instead of resorting to pills, perhaps we could dance away the blues, sing into a hairbrush or something 'mad' like that which takes us away from the things that bring us down and cause us to be obsessed with ourself and our lot.
Unfortunately, we cannot overcome loneliness for somebody else. But each of us has a need to communicate with another person, to stop thinking about oneself long enough to know that there are other people around who need caring for, looking after and interest shown them.
If you're lonely, perhaps it's a call to go visit a neighbour, to be there for a friend. It could be a call from the depths of your self to be fulfilled through following your heart's desire. Going back to your roots can give you that, can show you the right direction to head in.
You're never too old to discover the treasure within yourself, your interest potential to reach out and brighten up the lives of others, and, in the process, free yourself from the terrible plague of loneliness.
Thought
Be on the lookout for ways to fulfil your heart's desire.
Use your talents for the benefit of yourself and others.
Anniversaries
Mamie Kennedy, Mín an Aoire, Mass Sunday 18th October 9.30a.m
Joe & Mary Agnes Cunningham, Colaway, Teelin, Mass Tuesday 20th Oct
Maggie, Michael & Pádraig McNelis, Carrick Upper, Mass Sat 24th
Teddy McGinley & deceased family members, Meenaneary, Mass Sun 25th Oct
Parish Finances/Collections: The only income parishes have to cover their bills – (upkeep, maintenance, insurance, church supplies, wages etc) is the Sunday envelope collection.
Families and individuals of this parish receive their box of envelopes each year in late December. According to our records 52% approximately use the envelope on a weekly basis. It is also noted that families and individuals drop money in to the collection basket and don't use the envelope. This is acceptable too. All income is very much appreciated. In recent months due to the covid pandemic the restrictions on Churches have affected their income. Parishes have suffered a massive decrease. Unfortunately, bills continue to come and have to be paid. At the moment our parish is finding it very difficult to maintain our good level of paying our bills for every day needs. As it is impossible at this time to organise any fund raising events your weekly contributions are very important. Go raibh agaibh.
The Church envelopes for the coming year will soon be available. Any new families to the parish who wish to be registered please drop their name into the Parochial House in the coming weeks. Anyone who does not wish to receive a box of envelopes may also inform the Parochial House. This is to keep the cost of printing envelopes to a minimum as well.
A note from Fr Denis G: I continue to improve from my recent surgery. Thank you for your continued remembrance, prayers and thoughts. I have a follow up appointment at the end of the month and hopefully will be able to return to parish duties in the not too distant future.
COVID-19 Support Line for Older People
ALONE manage a national support line and additional supports for older people who have concerns or are facing difficulties relating to the outbreak of COVID-19 (Coronavirus). Professional staff are available to answer queries and give advice and reassurance where necessary. The support line is open seven days a week, 8am - 8pm, by calling 0818 222 024.
An Tobar Domhain  continues to be livestreamed on the Raphoe Diocese Facebook Page each evening at 9.15pm.  You are cordially invited to join Bishop Alan for this time of prayer and reflection.  It is also livestreamed on the Cathedral Webcam atwww.churchservices.tv/letterkenny
A Prayer for Spiritual Communion My Jesus, I believe that you are present in this Most Holy Sacrament of the altar. I love you above all things and I desire to receive you into my soul. Since I cannot receive you now in Holy Communion, come spiritually into my heart. I embrace you as if you were already there and unite myself wholly to you. Never let me be parted from you. Amen.
 Download Newsletter HERE for printing