St Columba's Church Newsletter 15 August 2020
Published: Saturday, 15 August 2020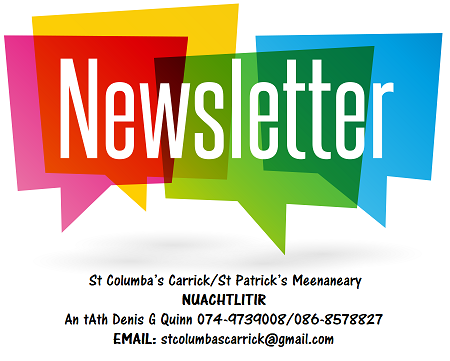 20th Sunday Ordinary Time 15/16 August 2020
Masses this week
Carrick                                                  Mín an Aoire
Mon 10 a.m                                       
Tue 9.30 a.m                                       An Dohmnach 9.30 a.m
Thurs 7p.m
Fri 10 a.m
Sat 6.30p.m
Sun 11a.m
Story
We can spend a lot of time measuring our prayer and judging our progress, not realising the only measuring rod of prayer is love and our willingness to share that love with others. Often when our prayer seems poorest in our own eyes, it may be the most precious in the eyes of God. In prayer the heart is more important than the lips, the attitude of mind speaks louder than the words we use.
Prayer then, is more than words, it is sharing, sharing your life with God. You discover his love for you and then you respond. In prayer we show our appreciation of the importance of saying "Yes" to God – even on the rocky miles of the journey of life.
The sincerity of our prayer is tested when we can turn to Christ in the midst of turmoil and say 'Jesus, take me as I am, I can come no other way.' Becoming a Christian is a lifelong journey, but it helps to believe that Jesus keeps us company each step of the way.
Our lives are different from the day we discover prayer, not as a last resort, but as a first resort.
Thought
Prayer is all about our attitude
No two people walk more that half way on the same road to God.
                                                                                                St John of the Cross
Cúimhneacháin Báis
Died Recently
Eileen Kelly, Sliabh Liag Ave,
Máire Mackey (nee Haughey), Ummerawirrinan/Philadelphia
Anniversaries
Connie Doherty, Altclough, Mass Sun 9.30a.m
John P Byrne, Teelin/Clogher
Fograí
Please continue to sign for the Mass you are attending. It is important that all attending observe the guidelines in the Church. Face Masks are advisable. Do not attend Mass if you haven't signed the forms in the Porch in advance. I appreciate the continued help of people and we need to continue to be very careful and cautious. Those attending Anniversary Masses are asked to notify extended Family outside of the parish of our restrictions and rules regarding numbers in the Church.
Parish Office: The Parish Office will be open for calls and the booking of Masses every Thurdsay from 10a.m – 1p.m.
Fr Denis G: Fr Denis sends his regards. He is recovering well from his surgery. He wishes to thank you for your continued prayers and good wishes at this time.
Prayer for the Assumption of the Blessed Virgin Mary
Almighty and everlasting God,
You have taken up body and soul
into the heavenly glory the Immaculate Virgin Mary,
Mother of your Son: Grant, we beseech You,
that, ever intent upon heavenly things,
we may be worthy to be partakers of her glory.
Through Jesus Christ your Son, our Lord,
who lives and reigns with You and the Holy Spirit,
One God, forever and ever.
Amen
Download Newsletter HERE for printing 
Hits: 1694