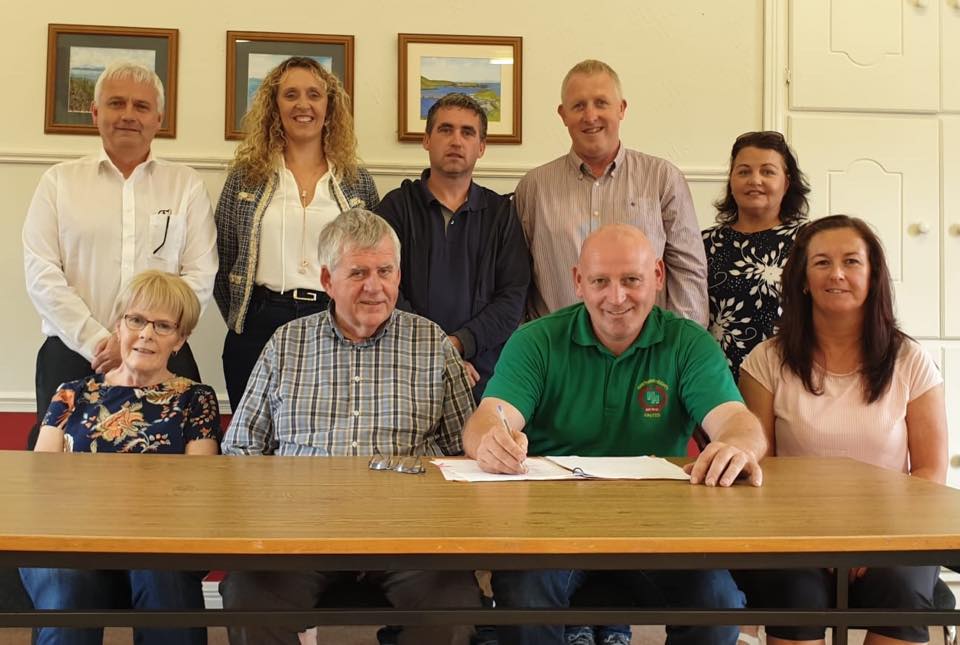 On Friday 9 August the contracts with the playground designer and contractor were signed and there are many people the committee would like to acknowledge for getting us so quickly to this stage. 

Thanks to Mary Service and the members of Carrick Mental Health Association for providing the playground site.

To the HSE property managers Martin Beirne and Kathleen O' Dwyer who facilitated the acquisition of the site, reducing the time involved from a probable 3-year period to just a few months.

To Eithne O'Donnell and the staff of the Day Care Centre for continuous support and encouragement.

Thanks to Michelle O'Donnell (Kilcar) and Carl Margy (Churchill), Andy Service and the numerous other people who encouraged us when we still only had vague ideas of how we would get to this stage.

To Martin Gallagher of M.J. Friel architects for his 7 days a week support and his reassuring good humour in dealing with problems as they arose.

Thanks to Donegal County Council's LCDC and DFI committee members and especially Cllr Niamh Kennedy who lobbied enthusiastically on our behalf. Thanks to Eamon Boyle of Donegal County Council for going beyond his remit by attending meetings with us and putting his invaluable expertise at our disposal.

To the Údarás na Gaeltachta Leader Evaluation committee chaired by Eunan Cunningham for providing the necessary grant aid to make the project viable. To Martina Ní Chanainn for her hard work and encouragement, including taking and making late evening phone calls to ensure we hit our incredibly tight deadlines. To Micheál MacGiolla Easbuig for his timely advice and guidance.

To all who supported our various events whether as sponsors or donors. A special word for Peter O'Gara (Toronto) and John O' Connor (Arklow) who made substantial unsolicited donations to this project.

Thanks to the other members of Coiste Forbartha na Carraige for their drive and determination to get this project off the ground. Thanks to the parents who joined our fundraising committee and who have become the lifeblood of the entire project.

To the staff at Hawthorn Heights Ltd. and to Stephen McGuinness who provided us with an outstanding playground design, that embraced the site's natural riverside location.

Finally, thanks to everyone who has supported, organised or participated in our various fundraising events. It is vitally important that you keep up your support until we reach our target and bring this project to fruition.